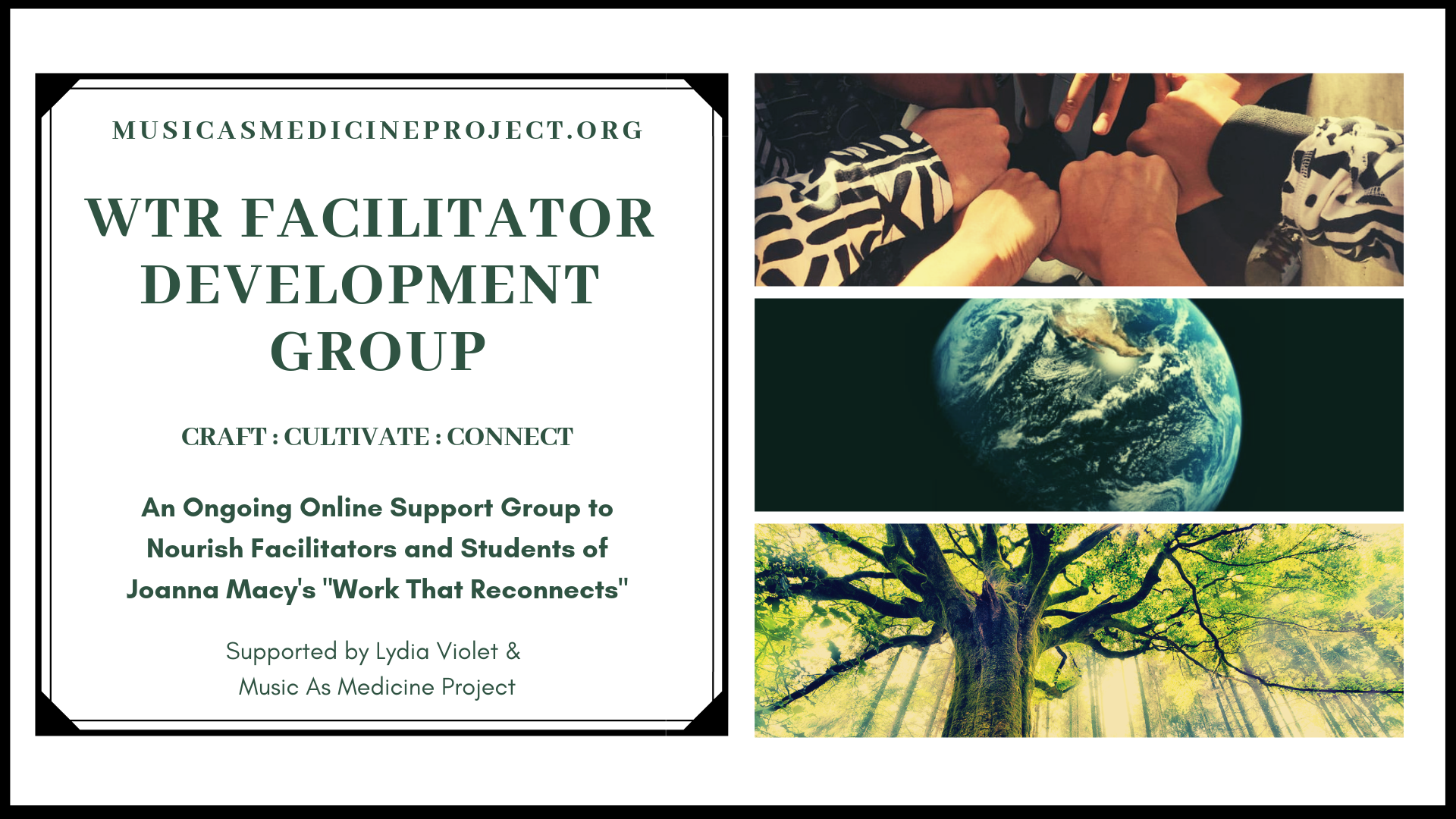 Welcome!
Whether you are an aspiring facilitator or arrive here with decades of experience under your belt, we all need community support to develop our craft and continue to deepen our understandings of the content and facilitation of Joanna Macy's work in our unfolding planetary moment.
And we need to know each other, both locally and international. The "Work That Reconnects" has cultivated a rich, international community. One of our goals here is to connect you further with your WTR comrades, both local and afar.
Here you will also find multiple, supportive resources for the development of your knowledge your craft as a WTR facilitator including:
- Two Wednesday 2-hour Zoom meetings per month, connecting our growing community of facilitators and students of the WTR. One will be at 10am PST and one at 5pm PST to accommodate a diversity of time zones. We will meet and discuss our questions, discoveries, and facilitation tools.
- Each Zoom meeting will begin with a short lecture by seasoned facilitator and student of the Joanna's, Lydia Violet Harutoonian. These subjects relate to the WTR and it's facilitation and can also be shaped by participants through periodic survey. Conversations will also focus on current, emergent world events and how to incorporate these events to stay relevant in our workshop, educational, and community gathering spaces.
- Written and video resources on the respective subjects covered each month will also be available.
- Bi-monthly session guests who are highly experienced mentors in the art of group facilitation, including adrienne maree brown and Joanna Macy herself.
- The ability to connect with facilitators both in your area and around the world. Each Zoom call will also be a space for participants to bring their discoveries and challenges around facilitating/undestanding the WTR to the table for conversation.

Monthly topics covered will include but are not limited to:
- Workshop prep
- Basics of group dynamics
- The application of systems theory to group facilitation. Understanding who is in the room: what is the conversation this particular group can have?
- Facilitating an inclusive, equity-informed environment. The intersection space between social equity work and the WTR.
- Trauma-Informed Facilitation
- Facilitation of WTR exercises
- Deep Ecology: The Living Planet As Our Larger Self
- Mutual Causality/Systems Theory
- Deep Time
- The Spiral of the WTR
- Radical Uncertainty
- Grief Work
- Collaboration & Reciprocal Individuation
We will have our first meeting on Wednesday, May 8th at 5-7pm PST. See you there!
This is an ongoing group that can be joined anytime. Please feel free to send any questions to musicasmedicineproject@gmail.com