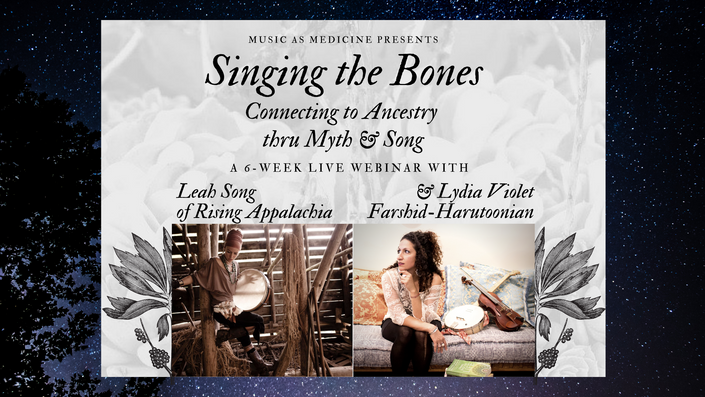 Singing The Bones : Fall 2020
with Lydia Violet & Leah Song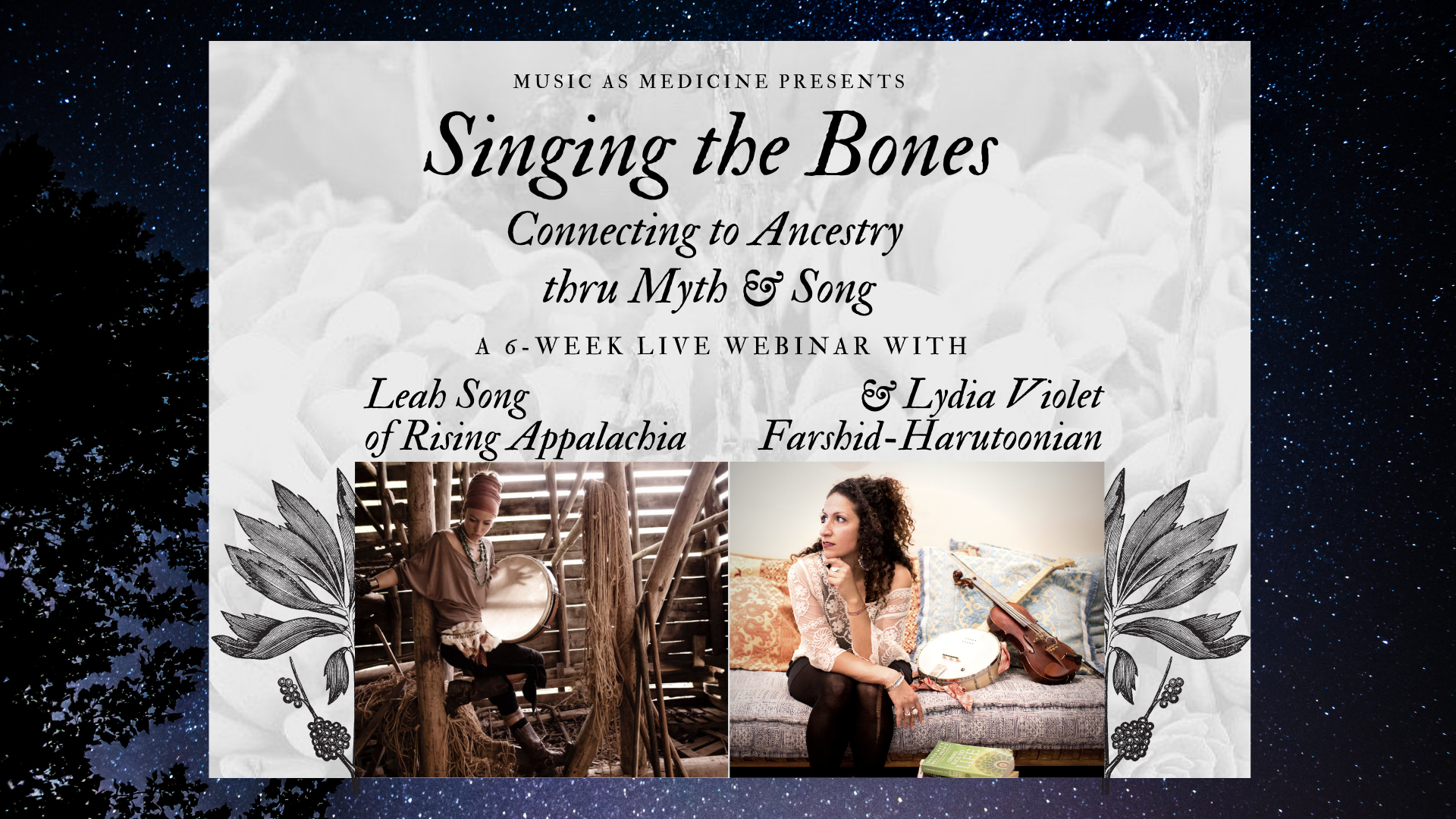 ---
This Fall 2020 cohort is now full! Thank you for the interest and we will be offering this again in the new year!
September 16-October 21st 2020 : 12-2pm PDT
In this live webinar series Iranian-American artist & scholar Lydia Violet and Leah Song of Rising Appalachia will guide you in exploring the cultural inheritance of one of your ancestries through researching myths, folktales, archetypes, musical instrumentation, and song.
You do not need to have musical experience to take this course!
By the end of this course you will have a deeper understanding of the cosmologies/myths/stories held within your inherited cultural lineage(s), a deeply medicinal endeavor in our time.
You will also be supported in discovering and learning part of at least one song from one of your heritages. You will delve into learning about the instruments, musical styles, customs, and rituals singing in your blood. You will see the connections and differentiations across cultures. And most importantly, you will practice reconnection within the diaspora, defining what relationship with your ancestors means for you.
---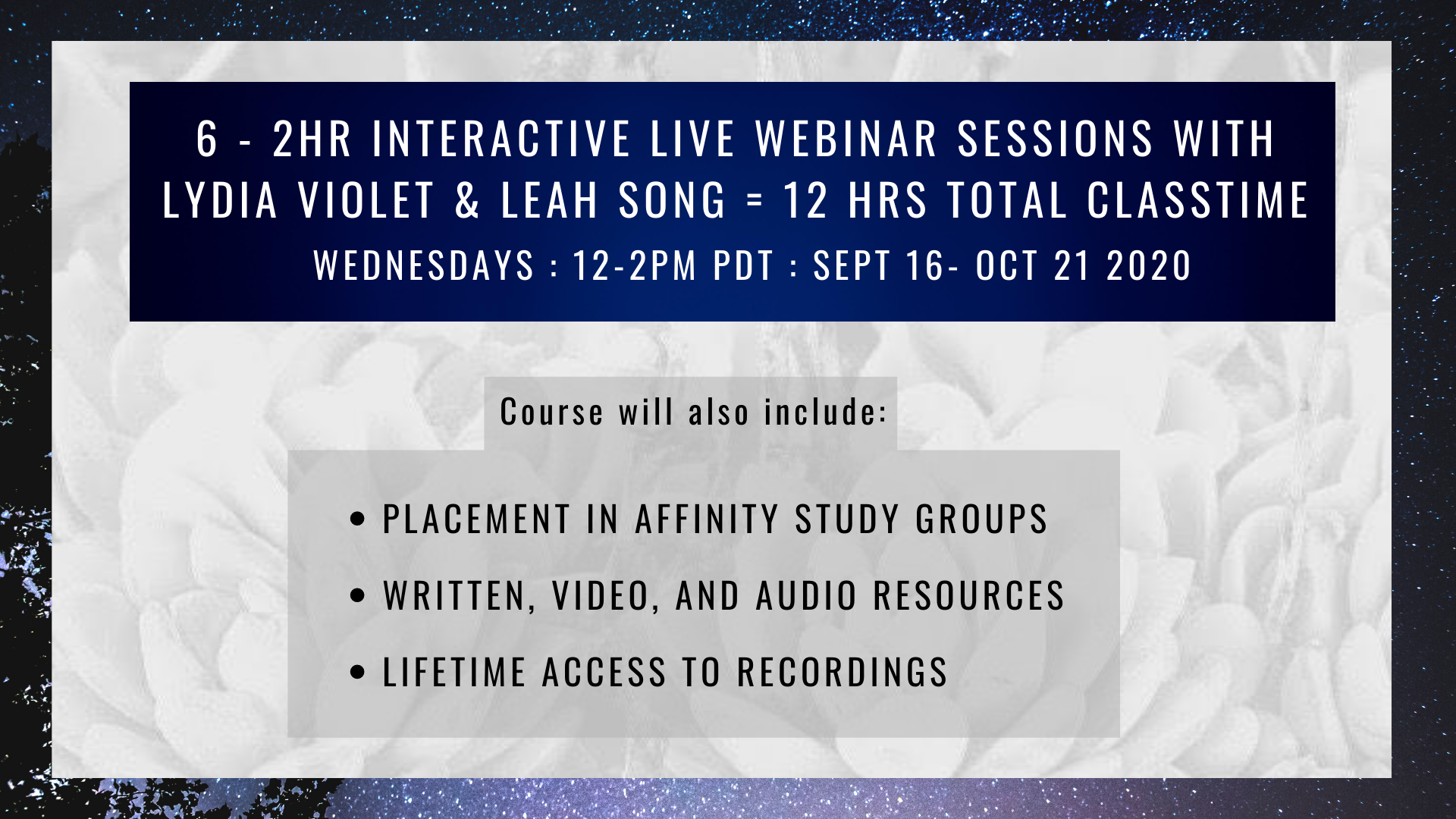 ---
"People do meditation to find psychic alignment. That's why people do psychotherapy and analysis. That's why people analyze their dreams and make art. That is why some contemplate tarot cards, cast I Ching, dance, drum, make theater, pry out a poem, and fire up their prayers. That's why we do all the things we do. It is the work of gatherings all the bones together. Then we must sit at the fire and think about which song we will use to sing over the bones, which creation hymn, which re-creation hymn. And the truths we tell will make the song...
...The old woman sings over the bones, and as she sings, the bones flesh out. We too 'become' as we pour soul over the bones we have found. As we pour our yearning and our heartbreaks over the bones of what used to be when we were young, of what we used to know in the centuries past, and over the quickening we sense in the future, we stand on all fours, four-square. As we pour soul, we are revivified. We are no longer a thin solution, a dissolving frail thing. No. We are in the 'becoming' stage of transformation." - Clarissa Pinkola Estes, Women Who Run With the Wolves
---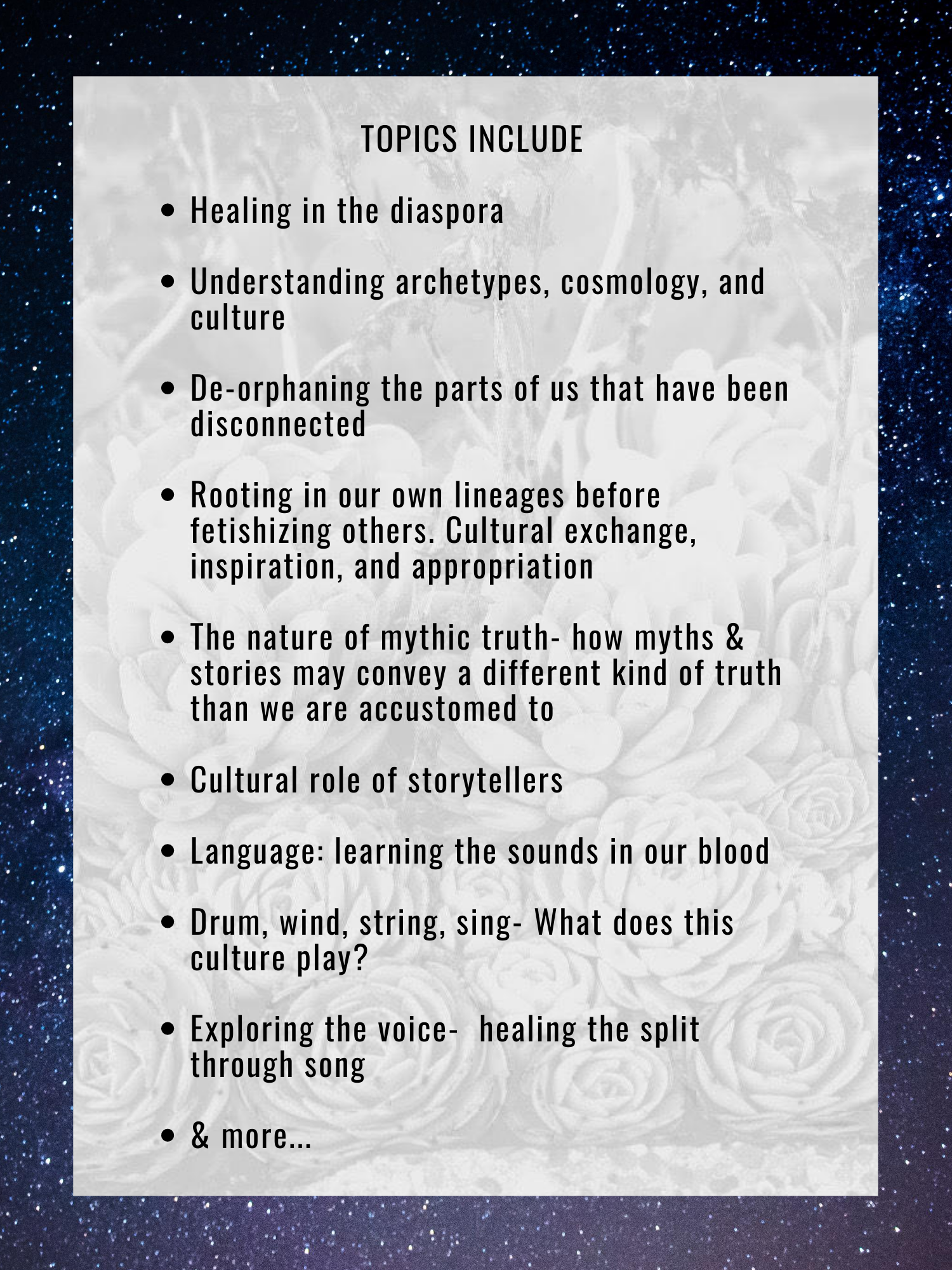 About Our Teachers
---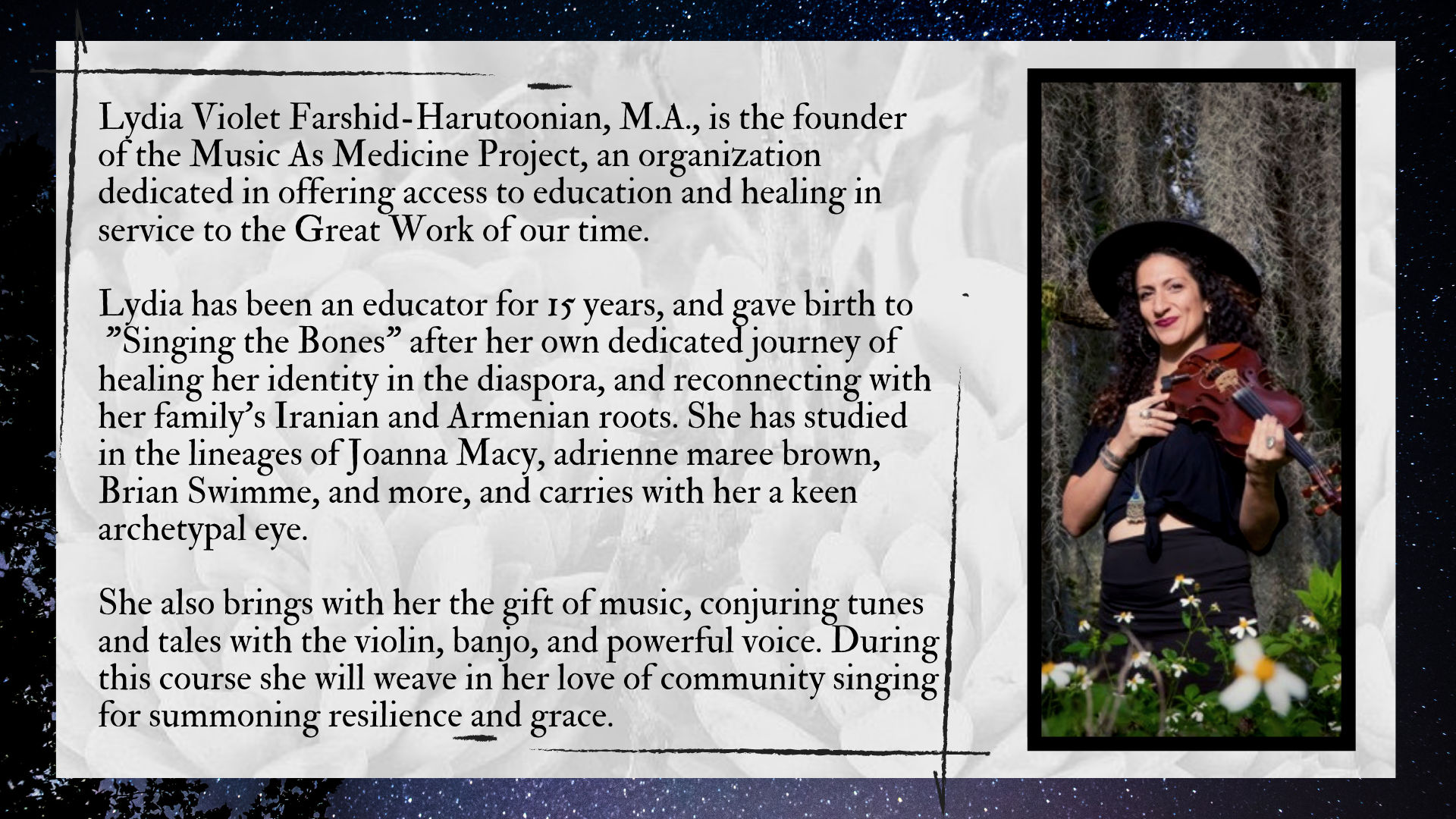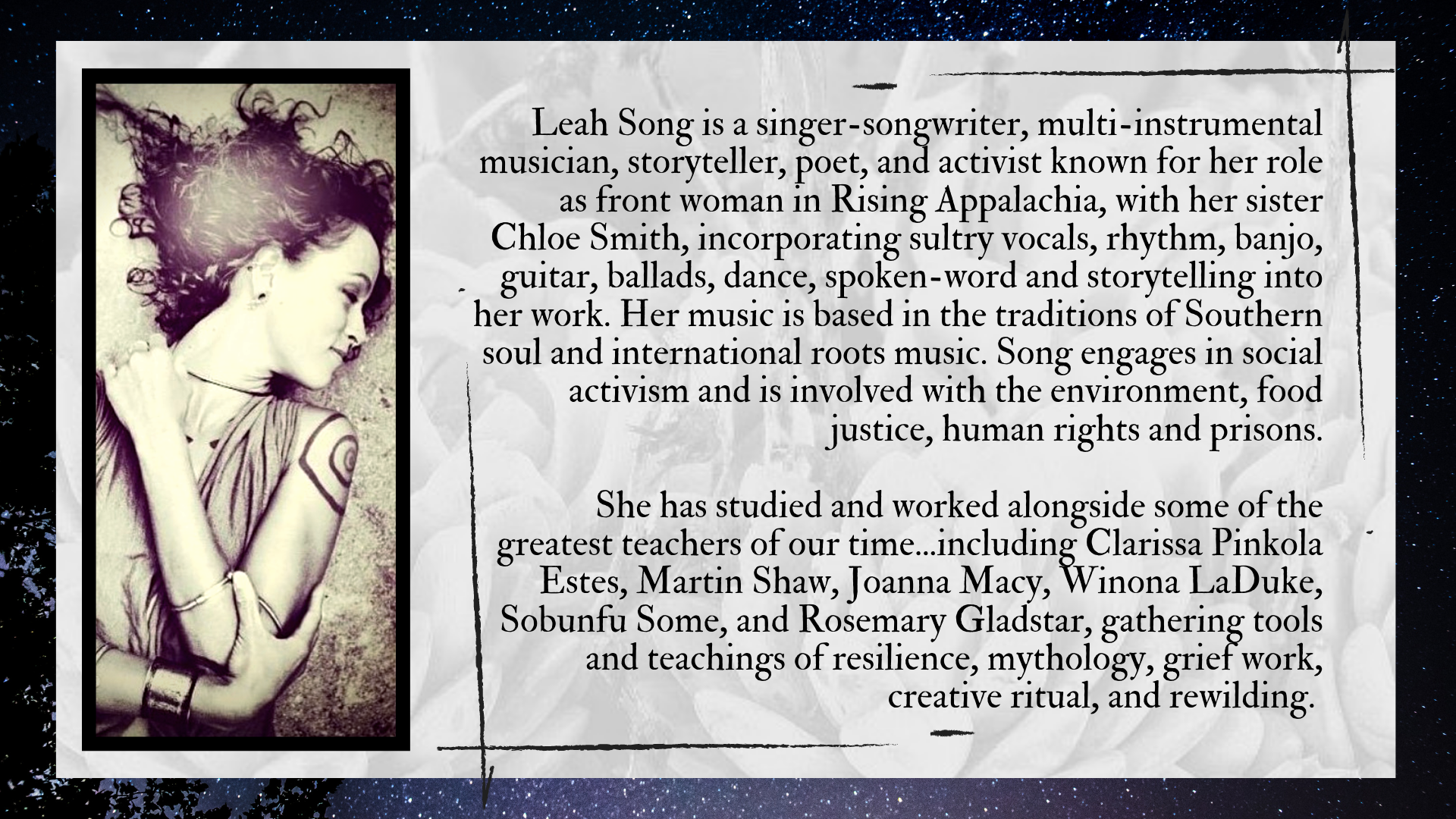 ---
Registration:

***Important note*** This course has the beauty of a lot of interest and is kept at a limited size to support the work being done! Please register early to secure your spot. Thank you!
All funds go towards paying all teachers, guest speakers, teaching assistants, and tech support a fair, livable wage. The "Supporter Ticket" tier bolsters our scholarship fund for this course, supporting our commitment at Music As Medicine to democratize access to education and healing.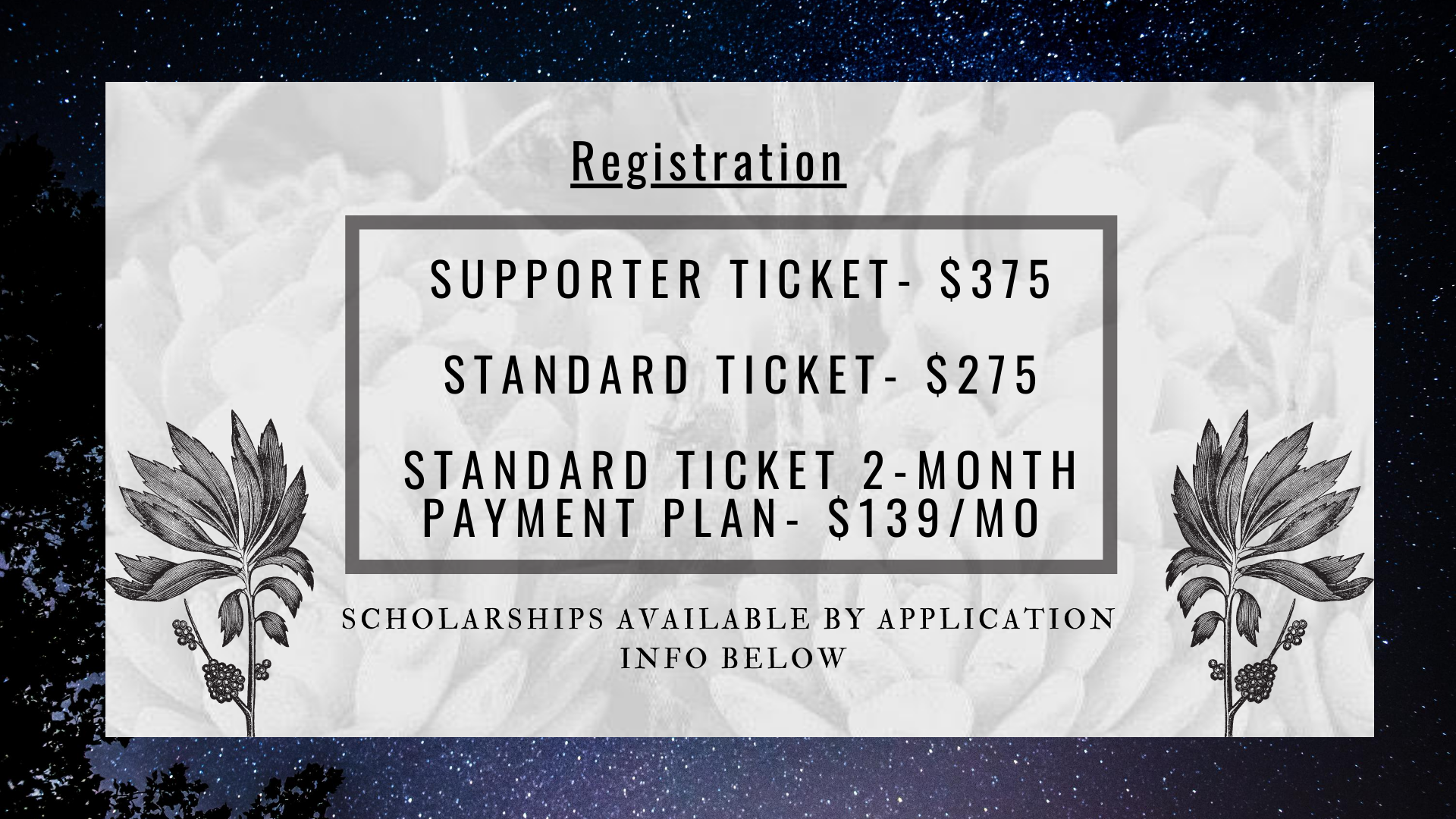 Our apologies, but we are currently sold out of scholarship spots (we've offered 22 to date)! But we will be offering this course again next year, you can join our mailing list at to stay up-to-date on our course offerings!
Please send any additional questions to [email protected]
Students are not able to register part-time; however, each session will be recorded and made available to all registered students. If a student cannot attend a particular class they can still register for the program and watch the missed video at any time.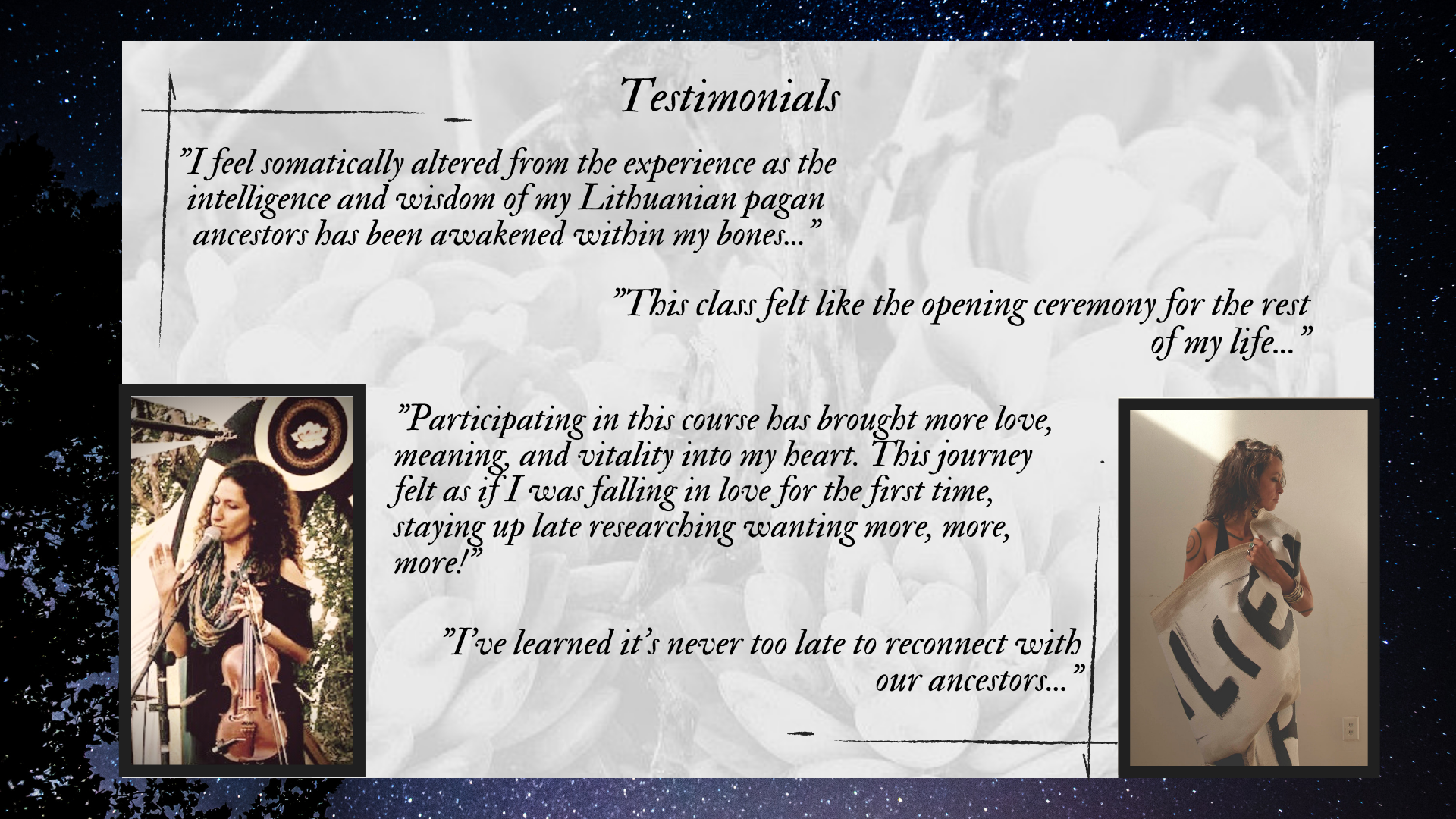 It will truly be a gift to do this work with you! We will see you soon.
Lydia & Leah
Your Instructor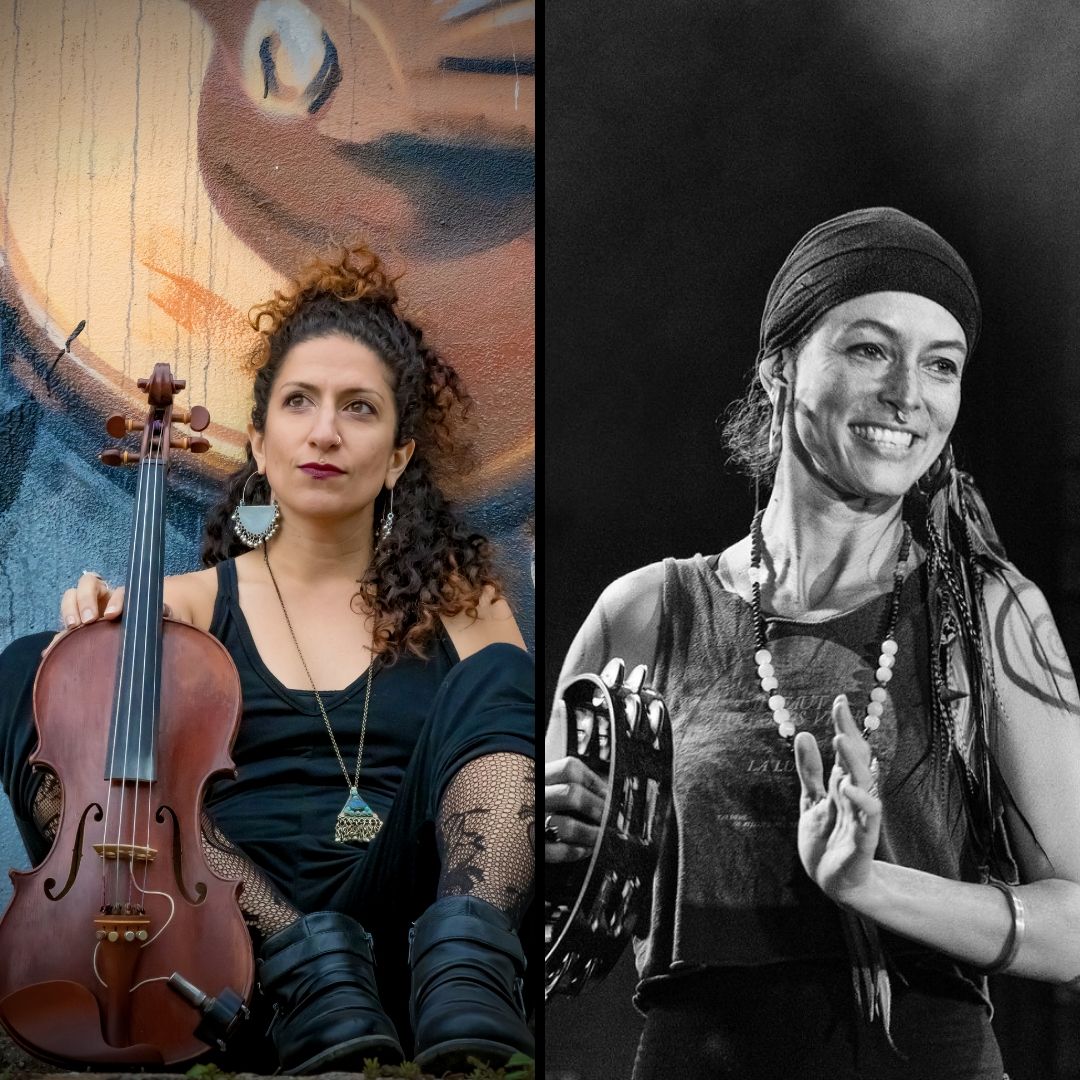 Lydia Violet is an accomplished Iranian-American multi-instrumentalist weaving together Southern blues, American roots, and Iranian folk music traditions. In her live band she combines fiddle, banjo, and luscious 3-part harmonies to offer a soul-folk revival experience, participating in a new wave of protest music. ♬ www.lydiafiddle.com ♬
Lydia also founded and runs The Music As Medicine Project, a non-profit dedicated to creating access to music and music education as tools for cultivating resilient cultures in our communities. www.musicasmedicineproject.org
IG: @lydiavioletmusic
Leah Song is a singer-songwriter, multi-instrumental musician, storyteller, poet, and activist known her role as front woman in Rising Appalachia, with her sister Chloe Smith, incorporating sultry vocals, rhythm, banjo, guitar, ballads, dance, spoken-word and storytelling into her work. Her music is based in the traditions of Southern soul and international roots music. Song engages in social activism and is involved with the environment, food justice, human rights and prisons. She has been a speaker at TEDx in Asheville, North Carolina. www.risingappalachia.com

IG @leahsongmusic
Course Curriculum
Welcome: A Cosmological Introduction: Sept 16th: 12pm PDT
Available in days
days after you enroll
Archetypal Connections: Sept 23rd: 12pm PDT
Available in days
days after you enroll
Archetypal Report Back: Sept 30th: 12pm PDT
Available in days
days after you enroll
Frequently Asked Questions
When does the course start and finish?
The course starts September 16th 2020 and ends October 21st 2020. Recordings of sessions will be available indefinitely!
What do I need to take this class?
Either a computer or phone that can connect to Zoom either by internet or direct dialing in. All Zoom info is in our Teachable class portal. That's it!